Engraved Plastic Name Tags & Badges
Our high-resolution laser-engraved plastic name tags and badges are our most economical and most popular line, with a large selection of solid colours and metal foil finishes that allow you to choose a name badge or tag that will enhance your corporate branding. Add a logo or design at no extra charge.
Engraved plastic name tags and badges are manufactured from 1/16 inch thick two-ply plastic material that is reasonably scratch resistant, extremely durable, and built to last many years of daily use. Engraved name tags and badges can have rounded corners or square bevelled edges; they come in various sizes or in any custom shape you can imagine.
Are you looking for a unique engraved name tag for your staff? Don't want the same-old-same-old 3 x 1-inch rectangular name badges. With our industry-leading laser engraving and cutting equipment, we can custom manufacture your engraved name tag to any size and shape.
Manufactured from the same material as our standard-shaped engraved name tags, you can be completely creative with the design. Instead of having your logo just engraved on the name badge why not have the logo as part of the shape o the name badge? Custom-shaped engraved name tags will help your employees stand out and make your brand really pop!
If you don't have a design but would like to have a custom shape engraved name tag, let us know what you are thinking, and we would be happy to work with you to create a design you will love.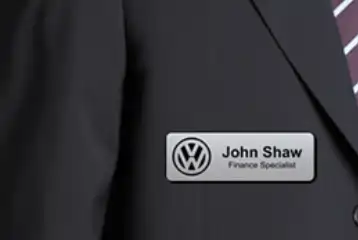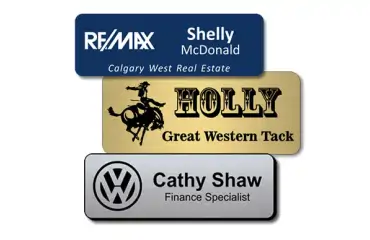 no artwork or setup charges
no typesetting charges, provided your list of names can be provided to us in a digital format ie/ Word or Excel
can be custom cut to any size or shape, pricing includes sizes to 6 square inches.
add your logo or artwork for no additional charge
fast service, most orders ready within 24 hours
large selection of colour combinations
price includes

locking safety pin attachment
magnet, double-clutch

super strong 3-magnet fastener, compare to 2 magnet fasteners

military style double clutch fasteners
free pre-production proofs