We offer a large selection of laser engraved industrial tags, including engraved nameplates and lamacoids for industrial and commercial applications. The tags can be manufactured from a variety of materials including, plastic, stainless steel, aluminum and even wood. Plastic lamacoid tags are available in many different colour combinations. Our industrial tags can include logos, text, barcodes and we offer double-sided engraving on our stainless steel tags.
Engraved Plastic Lamacoid Tags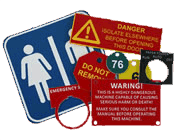 Lamacoid labels and nameplates are an affordable solution for all your tag requirements. Engraved plastic lamacoid tags can be ordered in any quantity, size and shape and can include any text, graphics or logos. Industrial nameplate tags are manufactured using a two-ply plastic material that is available in both indoor and outdoor UV stable material. Lamacoid plastic is available in two thicknesses with the most common being 1/16 inch with 1/8 inch also available in select colours.
We can also manufacture reverse engraved plastic lamacoid tags that are especially suited to clean environment requirements and are also more tamper and vandal resistant than front engraved tags. Reverse engraved tags and signs offer a smooth surface that is created by engraving the back layer of the material and the text or image is then paint filled to your specifications. Multiple fill colours can be used to create a multi-colour tag that is easily cleanable and more weather resistant than standard front engraved name tags.
With minimal setup and quick turnaround production time, these tags can be ready to ship within 24 hours!
[button-green url="/engraved-industrial-tags/engraved-plastic-lamacoid-tags/" target="_self" position="right"]More Information[/button-green]
Stainless Steel Tags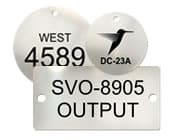 Stainless steel tags are available in a variety of stock sizes and can be custom marked with your text, graphic or logo. Stainless steel tags are coated and laser-etched to produce a ceramic glaze-like finish with the etched text or graphics permanently bonded to the stainless steel.
Laser-etched stainless steel tags have survived the following tests: Abrasion (scratch resistance), Saltwater spray, Lubricants and Blow torch. We also provide blank 1 1/2 inch and 2-inch stainless steel tags that can be marked with a Jiffy marker.
Have a large order, looking for a special size or shape, we can manufacture custom steel tags to any size and shape with or without holes as required. (minimum order quantity 100 pcs – allow 3-4 weeks)
[button-green url="/engraved-industrial-tags/stainless-steel-tags-laser-etched/" target="_self" position="right"]More Information[/button-green]
Aluminium Asset Tags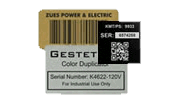 Engraved aluminum machine plates and tags are available in a variety of colours and are custom cut to any size. We offer both indoor and outdoor quality aluminum plates as well as military-grade Durablack anodized aluminum which can be custom cut and manufactured to any size.
Alumamark aluminum tags are available in two thicknesses 0.005 inch and 0.020 inch. 0.005 inch thick tags come with double-sided adhesive and can be easily mounted on curved surfaces.
[button-green url="/engraved-industrial-tags/aluminium-asset-tags/" target="_self" position="right"]More Information[/button-green]