Presentation Plaques
Ideal for any type of event or competition they come in a variety of sizes and are available in either solid wood or wood finish plaques. Our presentation plaques can be directly engraved for a unique look or your information can be engraved on a traditional brass plate mounted to your choice of plaque.
Direct Engraved Presentation Plaques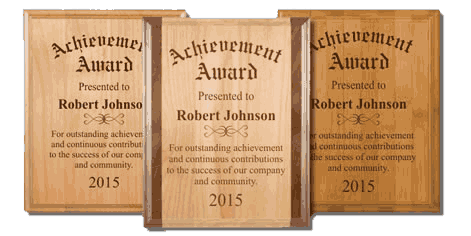 Looking for something different from your traditional corporate plaque with attached engraved brass plate? Direct laser engraved solid wood plaques are just the thing. Available in either Geniue Red Alder, Red Alder Plus with genuine Walnut borders, or our certified renewable Bamboo plaques. These plaque are directly engraved with your logo, photo, text and graphics and make wonderful unique presentations. The high definition laser engraving can be left natural or color filled for a higher contrast.
Available in a variety of sizes, including 7×9 inch, 8×10 inch and 9×12 inch
Economy Wood Finish Plaques
Our economy wood finish plaques are your economical solution for your presentation plaque requirements. Great for keeper plaques for schools, cadets, scouting and guiding groups. Let your award recipients know they are appreciated with their very own plaque they can take home and mount on the wall. These economy plaques are available with the same brass plates as our high end solid wood plaques. Economy plaques are available in four finishes Walnut, Oak, Marble and Black.
Available in a variety of sizes, including 7×9 inch, 8×10 inch and 9×12 inch
Solid Wood Plaques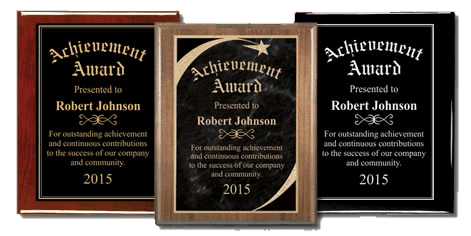 Our premier solid wood plaques are available in several styles, colors and finishes. The most popular being our solid walnut, and high gloss piano finishes in gloss black and rosewood. These plaques come with a brass plate directly engraved with your logo, graphics or text.
Available in a variety of sizes, including 7×9 inch, 8×10 inch and 9×12 inch