Available in bot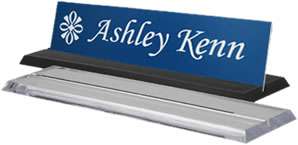 h clear or black, acrylic desk base holders are an inexpensive way to display your nameplate or desk sign.  With a slanted opening, the desk base will prop the nameplate to stand upright for easy viewing.
These signs can be up to 10 inches wide and 6 inches tall and can be useful in a variety of applications, including countersigns, desk nameplates, open/closed, next available window/teller, etc.
2 colour options, gloss black or clear
2 sizes – 8 inch or 10 inch lengths
holds signs up to 6 inches in height
engraved nameplates can be easily changed if/when required.
| Size | 1 | 2-10 | 11-25 | 26-50 | 51-100 |
| --- | --- | --- | --- | --- | --- |
| 8 inch Base c/w 2 inch Engraved Plate | $10.05 | $9.05 | $8.54 | $8.04 | $7.54 |
| 8 inch Base c/w 3 inch Engraved Plate | $11.70 | $10.53 | $9.95 | $9.36 | $8.78 |
| 8 inch Base c/w 4 inch Engraved Plate | $14.20 | $12.78 | $12.07 | $11.36 | $10.65 |
| 10 inch Base c/w 2 inch Engraved Plate | $11.90 | $10.71 | $10.12 | $9.52 | $8.93 |
| 10 inch Base c/w 3 inch Engraved Plate |  $15.65 |  $14.09 | $13.30 | $12.52 |  $11.74 |
| 10 inch Base c/w 4 inch Engraved Plate |  $18.15 |  $16.34 | $15.43 | $14.52 | $13.61 |
| 10 inch Base c/w 5 inch Engraved Plate |  $23.15 | $20.84 | $19.68 | $18.52 |  $17.36 |
| 10 inch Base c/w 6 inch Engraved Plate | $25.65 | $23.09 |  $21.80 | $20.52 | $19.24 |