Engraved Wood Name Badges
Excellent for Restaurants, Saloons, Bars, Taverns, Steak Houses, Environmental groups. outdoor stores and more…
Custom wood name badges say more about your business than just your name. They are an extension of your brand. Present a professional and friendly image to your customers and clients.
Our engraved wood name tags and badges are manufactured from 1/8 inch thick single-ply cherry or walnut hardwoods and are custom cut from sheet stock material so that we can manufacture any size and shape of name badge.
Our engraved wood name badges and tags include the following at no extra charge:
any custom shape

any tag size up to 6 square inches in size
can be custom cut to any size or shape

no artwork or setup charges

includes a logo or image and any text required

setup charges may apply to complicated shapes

1/8 inch thick cherry or walnut hardwood

recyclable – renewable – climate neutral

we're quick; most orders ready within 24 hours
price includes your choice of attachments

locking safety pin, magnet, double-clutch fastener, alligator clip

super strong 3-magnet fastener, compare to 2 magnet fasteners
Ask us about converting your multi-colour logo into a two-colour logo that will maintain your corporate image.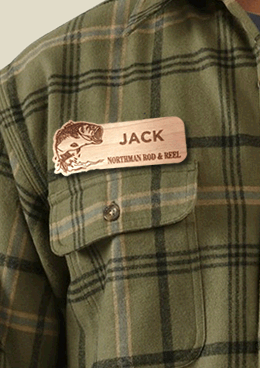 Locking Safety Pin
3 Magnet Fastener

Double Clutch

Alligator Clip