(Ontario) Commissioner for Oaths Round Stamp
$18.25 – $39.95
A round 1 5/8 inch diameter Commissioner for Oaths (Ontario) rubber stamp featuring specialty border and customized with your name and expiry date.   Text will be formatted to fit this style. We will contact you if there are any problems fitting your text. We will arrange your text as sample, adjusting text to fit area.
Available as a traditional stamp, self-inking stamp or premium pre-inked stamp.
Stamp Size 1 5/8 inch dia (40 mm dia)
The phrase "a Commissioner, etc.,…" is an abbreviation of the styling "A commissioner for taking affidavits in and for the courts in Ontario," pursuant to the Commissioner for Taking Affidavits Act, R.S.O. 1990, c. C.17, s. 4 (4).
Click here for a detail description of the different stamp types.

Traditional Stamps
Traditional rubber stamps with a wooden handle or as a pre-manufactured plastic mount are an economical alternative to self-inking stamps. They do require a separate stamp pad which are available in Black, Blue or  Red.  Large selections of alternative color stamp pads are available at local 'craft' stores.  Specialty Quick Drying stamp pads can be purchased with quick drying ink for stamping on glossy or non-porous surfaces.

Self-Inking Stamps
Industry leading Colop / 2000 Plus brand self-inking stamps are good for between 6000 and 10,000 impressions. Water based inks; replaceable and re-inkable ink cartridges; make for a stamp the can last a lifetime. Self-Inking stamps are available with Black, Blue, Red, Green or Violet inks. Not for use on glossy or non-porous surfaces.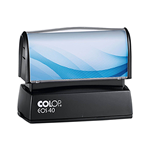 Pre-Inked Flash Stamps
Premium pre-inked flash stamp with sharp 'ink jet printer' like imprints, 20,000+ impressions, built in re-inkable pad, comes with bottom dust cover. Available with Black, Blue or Red oil based ink. Oil based inks will not run when exposed to moisture. Special 'quick dry' inks can be used to stamp on glossy or non-porous surfaces.